Villeneuve Minervois
Villeneuve Minervois


Villeneuve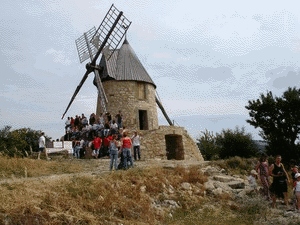 A few kms from Caunes, stands Villeneuve Minervois on the road to Cabrespine and its amazing huge cave.

You'll be hosted at the charming "Le clos du Moulin" where you'll enjoy both lodging and discovering of work of art from their gallery.

"La Demeure du Pareur" is a substantial 18th century house, which was completely renovated during 2008. Great care has been taken to preserve the original character of the house and we hope that our visitors will enjoy the calm and air-conditioned rooms with their classic décor, ensuite bathroom, TV and of course WIFI access.
An attractive alternative leisure for tourists in the region, enjoy the county's swimming pool, Les Bains de Minerve with hamman, jacuzzi & sauna. Outdoors and indoors pools. Located in neighbour village Peyriac Minervois (take road D111 towards Caunes, then follow road D11 to Le Tinal, then to Peyriac).

Distances from: Carcassonne airport 20 km, Carcassonne train station 18 km, Narbonne 57 km, Toulouse airport 119 km,Montpellier airport 123 km, Perpignan airport 110 km, Albi 114 km, Gerona (Spain) 229 km, Barcelona (Spain) 375 km.
Villages in a 15km radius in the Minervois
Caunes Minervois | Rieux Minervois | Peyriac Minervois | Azille | Villeneuve Minervois | Cabrespine | Laure Minervois | Mas Cabardes | La Redorte | Siran | Homps | Trausse-Minervois | Minerve | Puicheric | La Liviniere | Pepieux